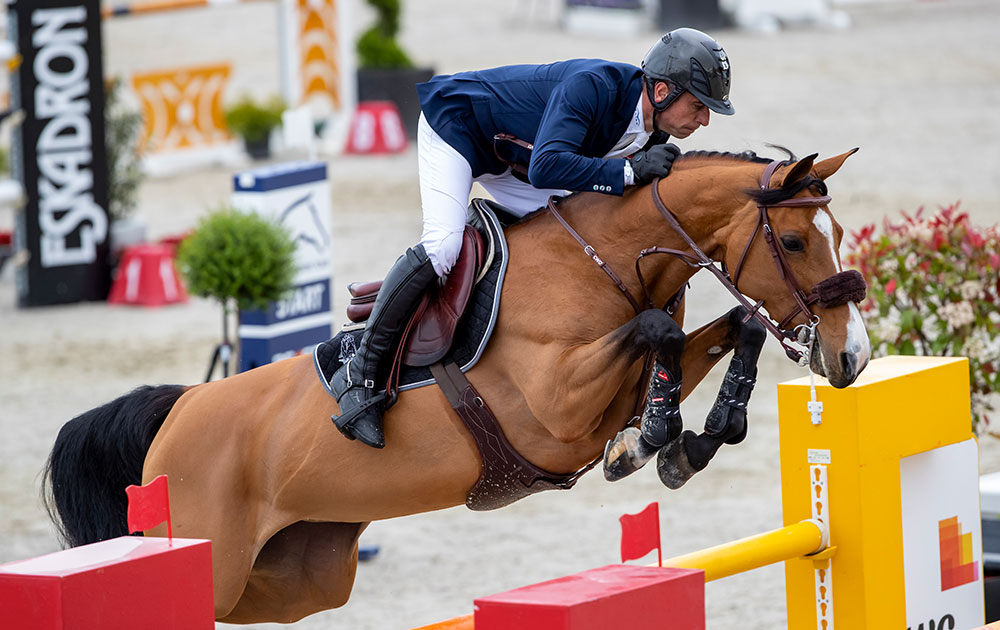 26 Apr

A French guest takes home the win at Horses & Dreams meets France

New Grand Prix-Horses shine in Almased-Dressagestadium
A French rider, Julien Epaillard, has won Friday afternoon's two-phase jumping competition, the Prize of  A. Rawie GmbH & Co. KG. Riding the Diamant de Semilly-son Safari d'Auge he placed ahead of Egyptian rider Karim Elzoghby and Amalia. Third place went to David Will (Herford) and Spring Dark.
Earlier in the day the six- and seven-year-old up and coming young jumping horses were performing in the big jumping arena at Borgberg. The prize of  the Hagen a.T.W. community was won by Mario Stevens (Molbergen) and  Botakara, a seven-year-old daughter of Balou de Rouet. In second place was Harm Lahde (Heeslingen) with Oak Grove's Zilzal ahead of Christian Ahlmann (Marl) riding Mandato van de Neerheide.
The Almased Dressage Stadium played host to the qualifier for the Louisdor Final Qualification. The event at Intermediare II level was won by the nine-year-old Oldenburger gelding l'Arbuste, presented by Senta Kirchhoff (Menden). This son of Skovens Rafael already competed at the World Breeding Championships for Young Dressage Horses as a seven-year-old for a sixth place. The pair placed two percentage points ahead of the Spaniard Borja Carrascosa in the saddle of Bordeaux' Barolo, a Westphalian stallion by Bordeaux. Third place went to the Oldenburger stallion For Romance OLD by Fürst Romancier and Swedish rider Therese Nilshagen. Two tickets for the final in the Frankfurter Festhalle in December will be handed out on Sunday morning in Almased Dressage Stadium.
The competition was followed by the final of the Amateur Tour of Ankumer Dressage Club, presented by R.S.C. Osnabrücker Land e.V. This Prix St Georges Freestyle test was won by Lea Lea Windhausen (Krefeld) and Zafriq de Jeau. Second place went to the Swiss rider Carl-Lennart Korsch and Dias Desperados ST ahead of Nane Grundwald (Bad Essen) and Solitaire. The new season of the Amateur Tour will kick off in autumn, from 16-20 October and the following seven club events.
Tickets for Horses & Dreams meets France are available at the gate for each remaining day.